The Sewer Main in Auburn is under renovation.  The original plans to do away with this collection site are underway, just a bit later than expected.  The plan is to install a new pump carrying wastewater through a pipeline into the nearby City of Lincoln. Currently, the City is hard at work removing bedrock to pave way for this pipeline connection for Lincoln and Auburn.  Area residents can expect completion of the project by the end of August.  Since June, there have been various cost deviations from the planned budget, with adjustments to the final cost which now totals $77.8 million. The allocation includes plant upgrades, the new pump facility, as well as excavation costs.  In the meanwhile, the intersection at Joeger and Bell roads has been a busy area with construction crews preparing the site.  Slight delays in progress were also encountered due to weather and more quantity of rock than expected.
Perma-Liner Industries has got you covered!  We specialize in repair and rehabilitation of Cured in Place pipelines and trenchless technology.  Since 1999, we've been developing our best equipment and products for you.  Call us or go online to find out how we can help. Perma-Liner.com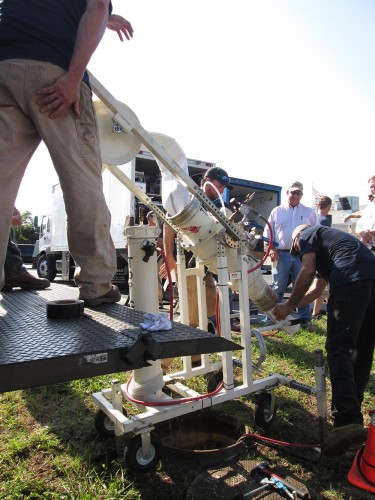 Sacramento, SAVE THE DATE!!
Mark your calendars because you won't want to miss this!  On Sept. 23rd Perma-Liner Industries is hosting a very special event and we'd love to see you!!  We're having our Open House at our facility in Plainfield, IL… and it's sure to be a great time.  We'll have our excellent staff here to answer all of your questions about Cured-in-Place Pipeline products and our state of the art trenchless technology.  Come out and see live demonstrations, share friendly conversations and gain information.  Meals will be provided.  Please register at no cost: info@perma-liner.com or 1-866-336-2568. Click Here to Register!